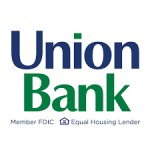 Website Union Bank
Stay Local. Go Far.
ESSENTIAL DUTIES AND RESPONSIBILITIES:
1. Monitor Help Desk ticket tracking system for new requests and work according to defined Standard Operating Procedures (SOP's).
a. Respond to and resolve requests in a timely and professional manner
b. Escalate a limited number of requests to appropriate personnel for resolution.
c. Keep tickets updated and employees informed regarding ticket status and current activity according to SOP's.
d. Create and maintain knowledgebase of common requests and resolutions based on resolved tickets.
e. Document Internal Procedures
2. Provide IT support for a wide array of requests for assistance from employees and occasionally customers by independently analyzing requests for assistance and developing appropriate solutions to meet expected service levels.
3. Primary contact for all utilized versions of Microsoft Office, Windows, PC hardware, network printers, Internet access, network cabling and third-party applications.
4. Install, test, and configure workstations and peripheral equipment for each employee
5. Maintain inventory of all equipment, software, and software licenses
6. Assist in supporting the Jack Henry applications.
7. Stay current and knowledgeable of ongoing technology.
8. Following State and other applicable guidelines and regulations, will regularly retain and safeguard all relevant records for their area of responsibility. Under the direction of their manager, will assure the proper destruction of records no longer required to be maintained.
ADDITIONAL RESPONSIBILITIES:
Perform additional duties as assigned, including but not limited to:
Perform physical installation of computer systems throughout all Bank locations.
Saturday on call rotation and other off hours is required, additional night shifts may be assigned to cover the Computer Operator's vacations and sick days.
QUALIFICATION REQUIREMENTS:
Strong technical problem solving skills
Knowledge of Bank utilized applications, software, and hardware.
Knowledge of AS400 and current versions of Microsoft Office and Windows. Ability to communicate effectively with bank employees on all applications.
Associates degree in data processing (Information Systems or Computer Science).
One year of prior technical experience, and knowledge of the Windows environments.
Ability to work in a fast-paced environment and independently resolve issues and problems.
Strong customer service background.
Valid driver's license.
Responsible for keeping up to date with pertinent banking regulations and banking principles.
Software Utilized: Asset Navigator, Microsoft Office, Internet Explorer, Silverlake and all Jack Henry applications.
Salary
$18.00 to $23.00 hourly, depending on experience