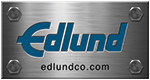 Website Edlund Company
Where Inspiration Meets Innovation
Edlund Company, through continual improvement of its Quality Management System, is committed to providing innovative, cost-effective solutions, outstanding quality, and value-added equipment that meets the ever-changing needs of a Global Foodservice marketplace.
SUMMARY
Production Technician – level one is the foundation of all production jobs.  There are three tracks in the level one technician development plan.  Track on is focused on assembly, track two is focused on fabrication and track three is basic CNC operation.  All Production Technician level one's roles will be diverse requiring numerous skills, functions, responsibilities and tasks.  As each Technician increases their skill through cross training, thereby learning ALL roles in the Production Technician level one sphere (track one. two or three) only then can they move onto a Production Technician Level 2.
Programs, sets up and operates CNC machining center that drills, mills, routs, or profiles machined parts by performing the following duties.
ESSENTIAL DUTIES AND RESPONSIBILITIES – TRACK 3
Set-up, operate and maintain the following equipment: Manual Lathes, Mills, Grinders, CNC Lathes and CNC Machining Centers
Basic CNC, robotic and automated machine operation, including basic machinist – (operate only not yet learned complete setup)
With guidance or assistance changes tools or fixtures on powered equipment
Operates and conducts basic maintenance on equipment.
Trouble shoots problems by using problem solving techniques.
Reads and interprets blueprints, sketches, or product specifications to determine sequence and methods of fabricating, assembling, and installing sheet metal products.
Reads blueprint, work instruction or job order to determine measurements, dimensions and specifications.
Utilize correct fixtures in conjunction with machine settings and materials.
Verifies conformance to specifications.
Responsible for quality including first piece and in-process inspections.
Identify and understand tooling, fixtures, and fixture components.
Operate basic manual and air tools (drills, hammers, wire cutters, soldering)
Produces highest quality products by following written and oral instructions.
Uses and understands functional gages to insure quality products.
Continually seek and recommend process improvements
OTHER NECESSARY FUNCTIONS 
Must be able to perform repetitive and non-repetitive manufacturing processes efficiently and effectively.
Must be able to follow and understand order of operations on work orders.
Must be able to follow and understand steps and key points as described in the work instructions.
Must be able to follow non-conforming material process, red tag non-conforming parts and participate in MRB reviews as needed.
Understand the concept of one piece flow and lean manufacturing.
Understand the importance of minimizing sub-assembly (keeping WIP to bare minimum)
Desire to learn new skills
Take pride in workmanship
Work with a sense of urgency.
Knowledge of basic inspection equipment such as: Vanier Calipers, Micrometers, Test indicators, etc.
Uses and understands functional gages to insure quality products.
Produces quality products by following written and oral instructions.
Meet basic standard production rate, and continually improve efficiency.
Provide feedback to refine and improve processes on an ongoing basis.
Must be able to multi-task by running multiple machines or doing multiple tasks.
Excellent interpersonal / communication skills.
Ability to get along with others, be punctual, and follow instruction.
Ability to work flexible hours as needed including job rotation and/or overtime.
Ability to uphold Safety standards,
Participate in continuous process improvements daily on the job,
Follow Manufacturing best practices.
Follow all policies, procedures, ergonomic standards and safety requirements directed by Edlund Company and the department.
Perform other duties as requested by management.
Education and/or Experience
High school education or equivalent; and/or up to three years related experience or training in a manufacturing environment; or equivalent combination of education and experience.
REQUIRED COMPETENCIES AND APTITUDES:
Excellent organizational and customer service skills.
Ability to positively and comfortably handle and prioritize multiple tasks in a fast-paced environment with focused attention to detail.
Ability to portray and contribute to a positive work culture every day.
Self Confidence to lead by example, question processes and contribute to continuous improvement.
Self-motivated positive team player with ability to train and interact with individuals at all levels.
Ability to make independent decisions in accordance with company policy.
Strong analytical skills and the ability to propose positive business solutions to problems.
Ability to effectively present information and respond to questions from groups of managers, clients, customers, and the general public.
Ability to calculate figures and amounts such as discounts, interest, commissions, proportions, percentages, area, circumference, and volume.
Ability to learn and apply concepts of basic algebra and geometry.
Ability to learn to solve practical problems and deal with a variety of concrete variables in situations where only limited standardization exists.
Ability to learn to interpret a variety of instructions furnished in written, oral, diagram, or schedule form.
Ability to keep accurate records.
PHYSICAL DEMANDS: 
The physical demands described here are representative of those that must be met by an employee to successfully perform the essential functions of this job. Reasonable accommodations may be made to enable individuals with disabilities to perform the essential functions.
Frequently required to stand; walk; use hands to finger, handle, or feel; and reach with hands and arms (67% – 100% of the workday).
Frequently required to do repetitive work (67%-100% of the workday).
Regularly required to walk, talk and hear.
Occasionally required to type.
Regularly must lift and/or move up to 50 pounds.
Occasionally lift and/or move up to 100 pounds.
Specific vision required includes close, peripheral, and distance vision, as well as color vision and depth perception.
Ability to adjust focus.
Position is regularly exposed to moving mechanical parts.
Regularly exposed to wet and/or humid conditions.
The noise level in the work environment is usually loud.
Regularly exposed to moving mechanical parts and fumes or airborne particles.