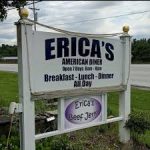 Erica's Diner
Erica's Diner in Fairfax is looking to add multiple Front of House rock stars to their staff. Erica's is open seven days a week for breakfast, lunch and dinner so if you're looking for a restaurant job where you can earn above average income while working a flexible schedule, look no further!
Job Description:
Serving customers with a positive attitude and lots of friendly smiles. Helping Back of House with food prep and cleaning. Making sandwiches and salads. Running food to customers. Cleaning and setting tables in a fast paced diner. Opening or closing duties will be expected to anyone working the breakfast or dinner shifts. Many of Erica's customers are regulars who come in multiple times a week, so maintaining a positive attitude is very important!
Requirements:
Previous restaurant serving experience is preferred, but Erica's Diner is willing to train candidates with the right attitude. Punctuality is very important, as is a strong work ethic. Let's not forget that when done right, work can be a lot of fun!
If you're someone who thrives in a busy but fun restaurant environment, and if you want to work for a locally owned business who really care about their employees, apply today at Erica's American Diner, located at 951 Main St, Fairfax