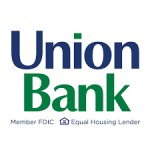 Website Union Bank
Stay Local. Go Far.
ESSENTIAL DUTIES AND RESPONSIBILITIES:
1. Assist the Merchant Services Manager with a variety of tasks to promote and enhance the VISA, MasterCard and other Merchant services with area businesses:
Provide the various merchant processing options available and help determine the best merchant system for customer's needs.
Seek approval from a Senior Officer when needed.
Collect all pertinent documentation, as well as a business description, from the merchant. Analyze figures regarding annual VISA/MasterCard volume and average ticket to determine the discount fee to maintain a profitable merchant portfolio.
Submit necessary forms to the processor for acceptance into the merchant program, including a Fee Schedule.
Provide merchants with all necessary supplies and equipment at installation and perform detailed demonstration of system functionality.
2. Maintain merchant database information and provide support to the Merchant Services Manager with administrative tasks, including customer report generation.
3. Ensure accuracy and process adjustments related to merchant deposits.
4. Provide excellent customer service to merchants with inquiries, including charge back/copy request assistance.
5. Continuously monitor and review account change requests; validate that account changes were completed correctly.
6. Conduct on-site merchant visits, as assigned to provide support, assist with merchant training and installation of equipment, as well as, positive ongoing customer relations.
7. Assist with cost comparisons between Union Bank merchant services and other merchant services providers.
8. Assist with maintaining current regulatory practice/procedures for the Merchant Services Program.
9. Maintain role as a merchant in a cash advance environment and supply copies of applicable documentation to processor upon request.
10. Aid Tellers with cash advances and any cash advance problems that arise.
11. Assist with cross-selling Union Bank services beneficial to commercial customers.
12. Following State and other applicable guidelines and regulations, will regularly retain and safeguard all relevant records for their area of responsibility. Under the direction of their manager, will assure the proper destruction of records no longer required to be maintained.
ADDITIONAL RESPONSIBILITIES:
Perform additional duties as assigned, including, but not limited to:
Review various reports and statements received from the processor.
Monitor transactions for fraud, and research any unusual transactions.
Review discount rate charges to verify proper qualifying through VISA/MasterCard Interchange.
Responsible for the operation of the department in the absence of the Merchant Services Manager.
QUALIFICATION REQUIREMENTS:
Must have a valid driver's license and vehicle available for periodic use.
Ability to stay current with industry regulations.
Mathematical aptitude.
Salary
$17 to $21 per hour, depending on experience